Slushy Strawberry Smoothie is one of my favourite smoothie. Strawberries are good source of vitamins and have a good nutritional value. This delicious smoothie is quick and easy to make. And as Strawberries have the ability to fuse with other fruits, they taste good blended with any other fruits of your choice.
This recipe is my entry for Aartee's Summer Splash Event

and for Sia's WBB - Summer Feast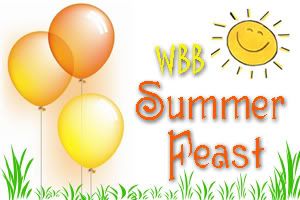 Ingredients:
100g. Strawberries
2 Bananas
1 Cup of whole milk
1/2 Cup of yoghurt (Plain or strawberry flavour)
4 Teaspoons of sugar
1/2 Cup of Ice



Method:


1. Wash Strawberries and clean them. Peel off the bananas.
2. Take all the ingredients in a blender or a juicer and blend it in a thick consistency.
3. Garnish it with chopped Strawberries.